Maturity:

Stable

Released on:

Monday, 07 May 2012 02:00

Viewed:

11239 times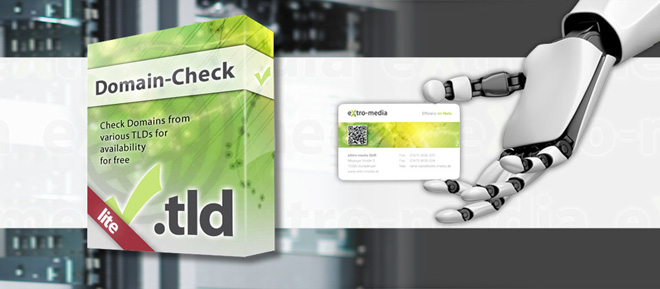 This module allows you to check domains with multiple TLDs for availability.
The module checks domains in these TLDs for availability:
.de (Germany)
.eu (Europe)
.com (Commercial)
.at (Austria)
.org (Organization)
.info (Informational)
.net (Network)
.ch (Switzerland)
Please note: this is a free version of our commercial Domain checker. This free version can only check the TLDs listed above and cannot be configured. Additionally, in the frontend output, there will be links to direct purchasing possibilities of domains on our servers. Please DO NOT download and use this module if you don't agree with this.
The commercial version of this module can check much more TLDs and is configurable, eg you can define which TLDs you want to check and create your own profiles, or use the default ones.
Please read also the file mod_extrodomaincheck.txt , included in the zip file.
Comparison Chart DomainChecker
DomainCheck commercial
7, individually configurable profiles to check TLDs in the frontend.
Contains no backlinks.
Whois-Test, Webmastercoffee-Test.
Overview link configurable.
TLDs that can be checked all TLDs until 2011, and some of the new gTLD there will be extended on updates.
Support by eXtro-media.
Purchase commercial eXtro Domain Checker
DomainCheck free
NO configurable Check profiles.
Fixed overview link, links to eXtro-hosting.eu (it could be removed manualy).
TLDs that can be checked (de, .eu, .com, .at, .org, .info, .net, .ch) it cannot be changed.
Support by Community (Forum).
Downloaded:

4799 times

File size:

18.07 Kb

MD5 Signature:

148aeca11349e8563622d70f1c4877f0

SHA1 Signature:

e833fe6cdd58525b9ffe26837d18946c7eb2d11c

Compatibility: