Maturity:

Stable

Released on:

Thursday, 01 April 2010 02:00

Viewed:

24878 times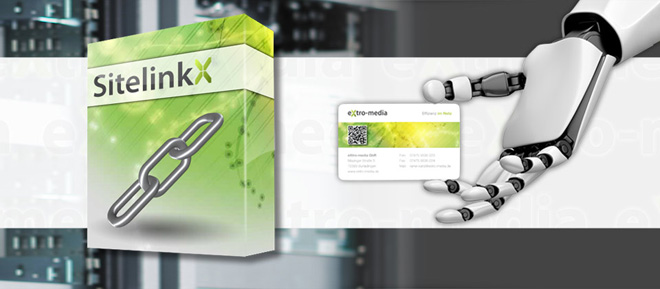 Sitelink
X

free for Joomla!

Sitelinkx is a simple way to manage links in Joomla. Keep an overview of the internal and external links.

Here you can find out how to use Sitelinkx

This package contains the component/plugin SitelinkX. This extension automatically replaces keywords with links. The commercial version of Sitelinkx (SitelinkX Pro) has improved features as well as better support. If you like SitelinkX, please consider purchasing the commercial version.
Comparison Sitelink
X

and Sitelink

X

Pro
Sitelinkx Pro
Unlimited Sitelink

X

can be created.
Select a Joomla-article from a list and set it as target.
Create nofollow-links
Limit the number of replacements in a article
Check if the set URL will be reachable or not.
Define the Target Window (_self, _blank).
Select joomla articles and components, where keywords shall not be replaced.
Support by e

X

tro-media
Include the booster Plugin for faster replacement
Purchase SitelinkX Pro
SitelinkX
Unlimited Sitelink

X

can be created
Select a Joomla-article from a list and set it as target.
Create nofollow-links.
Limit the number of replacements in a article.
Check if the set URL will be reachable or not.
Define the Target Window (_self, _blank).
Support by the comunnity (forum)
Downloaded:

17212 times

File size:

81.67 Kb

MD5 Signature:

967eebe2646fcf741ba7781dc2b1b12b

SHA1 Signature:

60877b2b8a02d8c40312476b7e5779753b762ce4

Compatibility: