Maturity:

Stable

Released on:

Monday, 27 July 2015 02:00

Viewed:

10492 times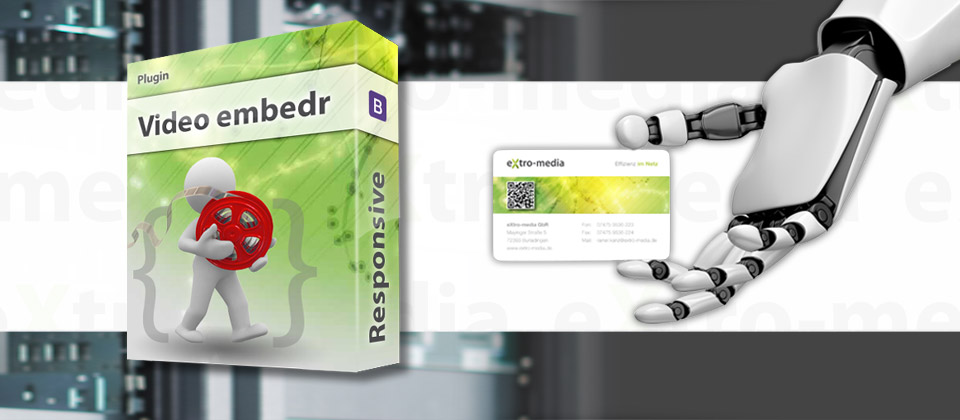 Video Embedder for Joomla!
The Video Embedder Plugin is used to embed videos from different video platforms into your Joomla article.
This plugin can be used stand-alone by entering the tag manually into a article and providing the correct parameters.
However, it is much more fun and convenient to use the editor plugin that comes with the Video embedder.
While editing a Joomla article, all you have to do is to click the 'embed video' button to embed a video.
All videos that are embedded with the eXtro Video Embedder are displayed responsive - so you don't have to worry about the video size!
Updates:
V1.1.0 now also supports facebook videos.
Please note: only public facebook videos are supported!
V1.2.0 adds frontend compatibility
---
Please note: Unzip the file first, then install both plugins separately.
This package contains 2 plugins:
The Video Embedder Plugin - this plugin actually embeds your video
The Video Embedder Editor Plugin - this plugin lets you create the plugin tag in a very convenient way, just click the button
Please don't forget to activate both plugins!
Downloaded:

6716 times

File size:

6.85 Kb

MD5 Signature:

28a95d75860c85aa35f9986e83c5a670

SHA1 Signature:

6c79bbe2f50a2927d697da5314b1c18f14e7e817

Compatibility: